RX
Art.Nr. 102105
Forestone - Gold Lacquered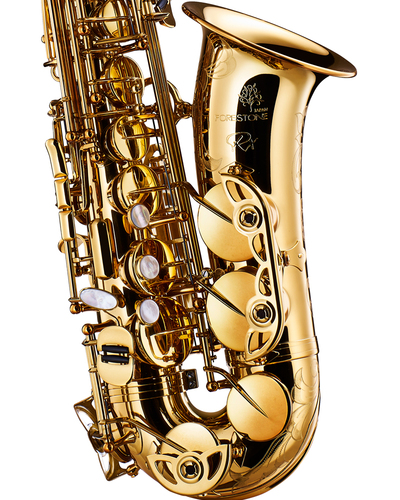 Short facts:
• kompakter, warmer und moderner Klang für alle Stilrichtungen geeignet
• gebördelte Tonlochkamine
• Kältebehandlung (-196°C) von Hals und Korpus (Lösung der "Spannungen" im Metallgefüge)
• handgravierter Schallbecher
• Pisoni Polster inkl. Metallresonatoren
• Blaustahl Federn
• justierbarer Daumenhaken aus Metall
• ergonomisches Design
• hoch Fis-Klappe
"Introducing the flagship model of Forestone Saxophones, the RX Series. Featuring the significant Rolled Tone Hole with special mechanic construction to create a FOCUSED and BIGGER tone; engineered with Hybrid Post Construction and being fully cryogenic FVCT treated on the body and neck - for more power than ever. The Forestone RX Gold Laquered delivers faster response, has Pisoni Pads, real mother of pearl and is beautifully hand engraved on saxophone body and neck."